St. Patrick's Day
Approaching five years in the greater Boston area and we still hadn't ventured out to South Boston to see the famed St. Patrick's Day parade. This was to be the year. We headed out early Sunday morning with the simple yet appealing plan of sitting in an Irish pub along the parade route and watching the festivities. J had done some diligent Internet research and identified several potential candidates to quench our thirst.
The powers-that-be have moved the parade to Sundays in an effort to curb the unbridled drinking that had become a staple of the event. The logic was that fewer people would drink on Sundays because they had to go to work the following day. Additionally, Massachusetts' arcane blue laws forbade the purchase of alcoholic beverages before noon. Judging by the lines of customers extending around the block of each liquor we passed as we drove into town, not much was going to stand in the way of a good time. As we checked out J's pubs, we soon found out that it was going to cost us a minimum of $20 a pop just to get in one. And once in, you're condemned to paying the inflated beer prices. We wandered around checking out the revelers and looking for a suitable venue. We eventually settled on an empty Mexican restaurant of all things with a view of the route and a constant supply of Corona and Modelo Negro.
The parade itself was somewhat disappointing. While it was enjyable to see the floats, fireman, and policemen from all over the Northeast, it seemed overwhelmingly like a political parade beset with congressmen and city council members dressed in green ties and seeking re-election in the coming Fall. Massachusetts may be the only state in which the state capital is also the largest city, so there is never a shortage of politicians around trying to look important. It was something to experience once and a nice diversion after the long winter, but we doubt that we'll go back year after year.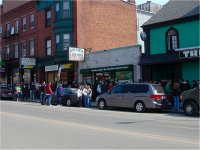 The liquor store was a busy place.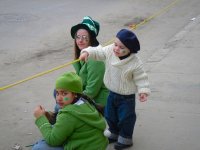 Let's get this party started.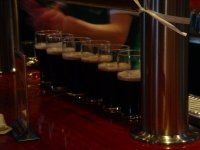 The bartenders were a blur.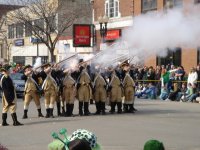 The seven musketeers.